Showing 1 - 19 of 19 result
Adidas Fragrance and perfumes
Adidas has achieved success in the men and women perfume market.
Due to its low cost and the company's background adidas offers its best fragrances to consumers either in the low-priced online perfume market or the sports enthusiast.
There is a huge selection of perfumes for men and women.
Adidas has a huge 79 perfumes in its fragrance collection for him and her.
Notable perfumes include the original; which has proven to be successful.
Adidas has expanded its women's perfume over the years, prominent perfumes include fruit rhythm, born original for her, Born Original Today Pour Elle, adidas natural vitality and get ready eau de toilette perfume all available at fragrance2go .
In regards to the mens offering some famous perfumes include Adidas Ice Dive, Pure Game, Dynamic Pulse and Get Ready! For Him
Is adidas Cologne Long lasting?
In regards to the long-lasting scale adidas perfumes are quite moderate. 
In comparison to Hugo Boss and premium perfumes they are not as long lasting, but in general it is good.
In regards to pricing the Adidas price targeted towards those in the lower end of the market with prices typically ranging between 10-20 pounds.
What does Adidas Dynamic Pulse cologne smell like?
Adidas Dynamic Pulse cologne a perfume targeted towards men smells much like a woody green texture, the additional accords include aromatic, citrus, fresh spicy, fruity, sweet fresh floral and vanilla textures.
The Dynamic Pulse first launched back in 1997 is more towards the summer period and worn more in the daytime.
The notes for the adidas dynamic pulse include mint, citrus, Cedar, Fruity Notes, woody notes, tonka bean and floral notes.
What are the most popular adidas colognes?
Adidas has a great selection of great perfumes however to ones that stand out include
- Adidas Pure Game - First Launched back in 2010.Notes include grapefruit, Basil,
Mandarin Orange, Pepper, cypress, lavender, guaiac wood, tonka bean, sandalwood, incense, patchouli
- Adidas Ice Dive - The next item that is also very popular is the Adidas Ice Dive. First Launched back in 2001.
The accords for this perfume are citrus , fresh spicy, aromatic, green, lavender, woody, warm spicy, sweet and fruity.
Adidas tailors its products for both men and women due to the huge perfume selection base there is practically a perfume for everybody.
Adidas perfume predominately offers a majority of eau de toilette perfumes however there are eau de parfum and parfum and eau de cologne available,
you can now gift your loved ones with a combination of adidas sub sets with the Adidas Gift Set.
Due to the nature of the perfume adidas fragrances are best known for being very fruity and only sold as a niche usually online
Born Original By Adidas
Born original a perfume by adidas is now available for both men and women. 
There is quite a clear distinction between the mens and women's version.
The Adidas Born Original for Him has more a woody accord whereas the born original for women is a more fruiter scent.
Both Adidas fragrances were launched at the same time as each other in 2015.
There is definitely a clear distinction between the two perfumes when it comes to the perfume strength.
The women's perfume variant comes as an Eau de Parfum. Sizes include 30, 50 and 75ml. On the other hand, the mens perfume is available as an Eau De Toilette.
The Sizes are 30, 50 and 75ml.
The sizes are the same however the notes differentiate with the Adidas Born Original Perfume for her having the following notes: -
Apricot, orange peel, bergamot, Candy Apple, Coconut, Jasmine, Tonka Bean, Olive Tree and cedar.
The men's fragrance consists of the following accords Rhubarb, Lavender, Violet Leaf, Orange, Black Pepper, Sage, Sandalwood, Cashmere wood and cedar.
Adidas Pure Game
 Adidas Pure Game fragrance for men is an all-time classic mens perfume.
The Pure Game by Adidas was first launched back in 2010.
It is definitely one for the wardrobe and summer hit with its fresh, citrus and woody accords.
Its definitely a cheap perfume. Whilst you read this blog why not shop fragrance online at fragrance2go where you can pick up the pure game perfume from as little as £5.00.
The longevity is relatively moderate, you should be able to get 4 hours.
The notes for the pure game are grapefruit, mandarin orange, basil, pepper, cypress, guaiac wood, lavender, tonka bean, sandalwood, incense and patchouli.
If you have ever experienced the extreme power perfume by adidas then you will instantly understand the scents in the pure game.
The Adidas Pure game perfume has even been likened by fans to the allure homme sport by Chanel namely because of the strong citrus elements contained in both colognes. 
The adidas pure game is also available as a gift set.
Adidas Get Ready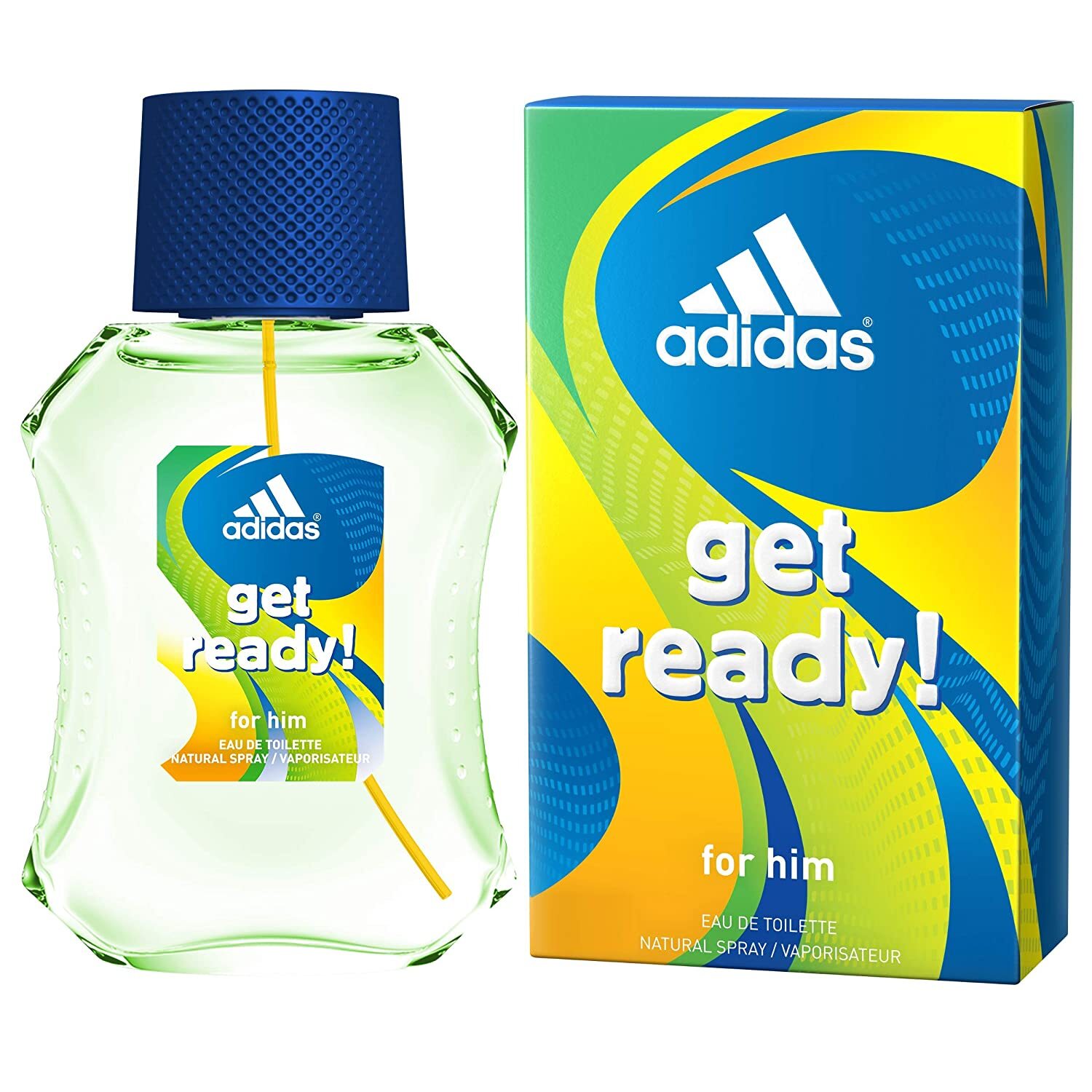 The Get ready perfume is a tropical perfume available for both men and women. Both sets of fragrances were launched back in 2014.
Get ready as the name suggests are summer perfumes in order to get you ready for the summer vibes. 
There are slight contrasts between the fragrances however there is definitely a strong accord of a sweety & fruity vibe amongst the two perfumes.
The Notes for the Adidas Get Ready for mens cologne are sea notes, pineapple, mandarin orange, exotic fruits, lavender, clary sage, cedar, patchouli and sandalwood.
Whereas the Adidas Get ready women's perfume contains Watermelon, Grenadine, orange, Sugar Cane, Lotus, musk, cedar and amber.
With Adidas Women's perfume you get the added benefit of enjoy the shower gel as well available in a gift set.
Both Get ready perfumes are available to buy online at a great price only at fragrance2go.
Shop Now.
Adidas Dynamic Pulse Perfume
Adidas Dynamic Pulse Perfume for Men Eau De Toilette is by far the longest standing perfume.
The Dynamic pulse fragrance was first launched back in 1997 - it was instant hit.
The Adidas Dynamic Pulse cologne is a summer type perfume at a great price.
Although the package style has changed the fragrance is still the same; offering a woody green aromatic scent.
The Longevity and the silage for the Adidas Dynamic Pulse is moderate. You can expect the perfume to last up to 4 hours.
Price for the Pulse perfume is Priced at £6.00, available to buy at fragrance2go. 
The Old-time perfume is also available as a deodorant spray and an aftershave.
Sizes for the Adidas Dynamic Pulse include 30ml, 50ml and 100ml.
Notes for the All-time favourite men's fragrance include Mint, Citrus, Cedar Fruity Notes, Woody Notes, Tonka Bean and Floral Notes. 
In the dynamic world of sports and fashion, Adidas has emerged as an iconic brand synonymous with innovation, style, and a commitment to excellence.
Beyond the realm of athletic wear, Adidas has ventured into the art of perfumery, introducing a captivating collection of fragrances that capture the essence of sporty elegance.
In this exploration, we delve into the world of Adidas Eau de Toilette, with a specific focus on the distinct offerings for both men and women.
The Art of Adidas Eau de Toilette
Understanding Eau de Toilette: Before we unravel the distinct fragrances offered by Adidas, let's acquaint ourselves with the concept of Eau de Toilette.
This term, often abbreviated as EDT, refers to a type of perfume characterized by a lighter concentration of aromatic compounds.
Adidas Eau de Toilette is crafted with precision, offering a refreshing and invigorating olfactory experience that aligns seamlessly with an active lifestyle.
Adidas Men's Perfume: A Symphony of Strength and Sophistication
1. Adidas Dynamic Pulse:
At the forefront of Adidas' men's fragrance collection is Dynamic Pulse, a scent designed for the modern man who embodies vitality and strength.
The fragrance opens with a burst of citrus notes, including the zing of lemon and the freshness of bergamot.
As the scent evolves, a heart of cardamom and cedarwood unfolds, creating a dynamic blend that is both invigorating and grounded.
Dynamic Pulse is a testament to the spirit of competition and the pursuit of excellence.
2. Adidas Ice Dive:
For those who seek a fragrance that mirrors the cool confidence of an athlete, Adidas Ice Dive is the go-to choice.
The top notes of mint and lavender evoke a sense of freshness reminiscent of a crisp breeze. As the fragrance progresses, aquatic notes and sandalwood come to the forefront, creating a balanced composition that exudes strength and vitality.
Ice Dive is not just a fragrance; it's a plunge into the invigorating world of athleticism.
3. Adidas Pure Game:
Pure Game is a fragrance that resonates with the competitive spirit. Opening with a lively blend of grapefruit and mandarin, it sets an energetic tone.
The heart notes feature basil and spicy pepper, adding a layer of intensity.
The fragrance concludes with base notes of tonka bean and patchouli, leaving a lasting impression that symbolizes the commitment to triumph.
Adidas Pure Game is more than a scent; it's a declaration of a man's pursuit of victory.
Adidas Women's Perfume: A Dance of Grace and Dynamism
1. Adidas Fruity Rhythm:
Fruity Rhythm is a vibrant and playful fragrance designed for the woman who embraces dynamism and grace.
The top notes feature a luscious blend of blackcurrant and raspberry, creating a fruity symphony that is both sweet and refreshing.
The heart notes introduce a delicate floral bouquet of cyclamen and freesia, adding a touch of femininity. Fruity Rhythm is a celebration of the rhythmic harmony between strength and grace.
2. Adidas Floral Dream:
As the name suggests, Floral Dream is a fragrance that captures the dreamy essence of femininity.
The top notes of bergamot and water lily create a light and airy introduction.
The heart notes unfold into a delicate blend of rose and lily, forming a bouquet that is both romantic and sophisticated.
The fragrance settles into base notes of cedarwood and musk, leaving a subtle and enchanting trail.
Adidas Floral Dream is an ode to the poetic beauty of a woman.
3. Adidas Pure Lightness:
Pure Lightness is a fragrance designed for the woman who radiates effortless beauty.
The top notes of melon and apple create a crisp and refreshing aura.
The heart notes reveal a delicate blend of jasmine and magnolia, adding a touch of floral allure.
The fragrance concludes with base notes of sandalwood and amber, leaving a gentle and comforting trail.
Adidas Pure Lightness is an embodiment of simplicity and elegance.
Conclusion: Elevating Everyday Moments with Adidas Fragrances
In the realm of fragrance, Adidas has successfully translated its commitment to excellence and dynamic energy into a captivating collection of perfumes.
Whether you're a man seeking strength and vitality or a woman embracing grace and dynamism,
Adidas fragrances offer a symphony of scents that align with diverse lifestyles.
Adidas Eau de Toilette is not merely a fragrance; it's an extension of the brand's philosophy—a celebration of movement, vitality, and the pursuit of one's personal best.
As you indulge in the invigorating notes of Adidas perfumes, you're not just wearing a scent; you're embracing the spirit of sporty elegance in every olfactory experience.
Why Not Shop All Adidas fragrances for Men and Women only at only at fragrance2go